Messages
F.F. MAULANA HUSSAIN AHMAD MADANI Educational Trust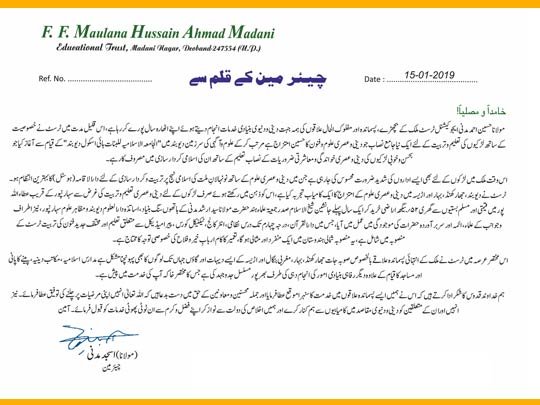 With praise to God and Salutation to Prophet,
Maulana Hussein Ahmed Madani Educational Trust is going to complete 18 years in the multi-dimensional spiritual and material basic services for the backward, under-developed and worse–off areas of the country. Within such a short span of time, it has compiled a new and comprehensive curriculum particularly in order to educate and train the girls and introduced it at the Jamia Islamia For Girls of High School, Deoband, a land known as the cradle of knowledge and awareness, that is engaged with the curriculum based on the religious and modern literacy and social requirements of the girls as well as their Islamic characterization.
At the moment, the need for some institutions is being acutely felt where the facility of better hostels is available for spiritual and modern education of the boys and their character building in accordance with Islam.
The trust has been successful in bringing the religious and modern sciences together in Deoband, Jharkhand, Bihar and Odessa. In its backdrop, a year before, with an aim to impart religious and modern education on boys only, the foundation stone of an institution was laid by the successor of Sheikh –ul-Islam and the president of Jamiat-e-Ulema-e-Hind Hazrat Maulana Arshad Madani at a highly prized 52 bigah plot of land surrounded by Muslim localities in Ataa-ul-laahpur, near Saharanpur in the presence of the teachers of Daar-ul-Uloom Deoband, and Mazahir-ul-Uloom Saharnpur, clerics, Imams and other prominent personalities of nearabouts. Under this project, facilities of Daar-ul-Quraan, the Dars-e-Nizaami up to the fourth standard, Inter College, Technical course, paramedical education and the training for different modern arts will be available. This project will be unique and exemplary all over the North India. The construction work stands in need of special attention of donors and philanthropists.
The trust, within a short span of time, has made massive efforts to set up Islamic schools and madrassas, mosques, and provide drinking water across the extremely backward, desolate and far –off areas of states particularly Jharkhand, Bihar, West Bengal, and Odessa. A brief account of the steps taken is being presented herein.
We thank Holy God that He blessed us with the golden chance to serve the people of so backward areas and pray for our donors and supporters that may the Almighty God confer on them the will to follow His path, and bless their relatives with success in achieving their spiritual and material goals. May He bestow us the prize of sincerity and accept our trivial and petty services.
(Maulana) Asjad Madani